Facial Rejuvenation Acupuncture

Facial Rejuvenation Acupuncture is a painless, non-surgical method of reducing the signs of the aging process. Though Facial Rejuvenation Acupuncture can sometimes be referred to as an Acupuncture Face-lift, it is more than a cosmetic procedure. It is a rejuvenation and revitalization process designed to help the whole body look and feel younger. Based on the principles of Oriental Medicine, it involves the insertion of pre-sterilized, disposable, hair thin needles into particular areas of the body, along various meridians (energy channels), with a focus on the face and scalp. Specific points are chosen to manipulate the movement of Qi (energy) in the body according to the individuals needs. Facial Rejuvenation treatment includes treating the underlying causes of discomfort in the body that may be contributing to the aging process. And in doing so, patients receive a complete acupuncture treatment in addition to the Facial Rejuvenation procedure.

Facial Rejuvenation Acupuncture may erase as many as 5 - 15 years from the face with results apparent after just a few treatments, although patients are encouraged to undergo the full 10-12 weekly visits to realize the maximum benefits. Fine lines may be eliminated, with deeper wrinkles minimized; bags under the eyes can be reduced, jowls firmed, and droopy eyelids lifted. In addition, the skin may become naturally moisturized with increased local circulation of blood and lymph to the face; increased collagen production, muscle tone and dermal contraction, as well as a tightening of the pores and brightening of the eyes. Gentle aspects of the treatments can be demonstrated to the patients so they can continue maintenance between appointments.

While not a replacement for surgery, Acupuncture Facial Rejuvenation is an excellent, non-invasive alternative. It is far less costly, safe, virtually painless, and has no side effects or risk of disfigurement. There is no trauma to the face and therefore no bruising or swelling, or required healing period.

Facial Rejuvenation is contraindicated for some pituitary disorders, heart disorders/pacemakers, diabetes mellitus, high blood pressure, or individuals who suffer with migraines. Likewise, treatments should not be conducted during pregnancy, a bout of the flu, or an acute herpes outbreak. Treatments in areas recently treated with Botox injections should be avoided.

Benefits Include: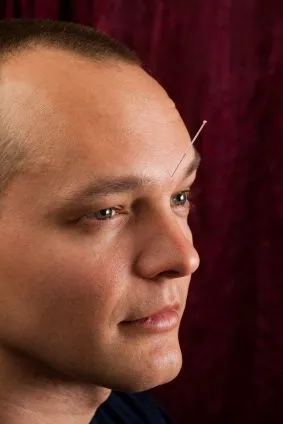 Erases fine lines, deeper wrinkles diminished

Lifts sagging eye lids, reduce bags/circles

Jowls firmed and double chin minimized

Improves muscle tone and increases collagen production

Helps eliminate puffiness by improving metabolism and eliminating excess fluids.

Improves hormonal balance, benefits acne.

Increases circulation of blood and lymph to the face and improves facial color.

Moisturizes the skin and can tighten pores

Can significantly reduce the appearance of scars and age spots

Slows the aging process from within

Reduces stress evident in the face

Promotes overall health and well being
Various factors such as stress, daily skin care, lifestyle, genetic inheritance, proper digestion and elimination, regular exercise, sleep, emotional balance and age, can impact results. During the initial consultation, we can review the opportunities for improvement you may expect from treatment.